Product Description
Company profile
Our company was founded in 2009 and is committed to developing various energy-saving and environmental protection equipment and products.The company's main products are electric forklifts,electric loaders, and electric garbage removal equipment.In recent years,the pollution of various fuel vehicles to the environment has been paid more and more attention,and has begun to be planned and even canceled. With the development of science and technology,all kinds of electric equipment developed by our company have gradually adapted to the needs of the market and human requirements for environmental protection.
Compared with traditional fuel equipment,our company's equipment has many advantages such as environmental protection,energy saving,noise reduction,low failure rate,low cost of use and convenient operation.In the domestic and foreign markets,there is a good reputation and demand.
I hope that our company's products can meet everyone's needs and contribute to our common and beautiful environment.
This series of self-loading and unloading garbage transport vehicles are a kind of sanitation vehicles that are used in conjunction with garbage compression stations. They are compact in size, easy to operate, and flexible. They are generally suitable for the collection and transportation of barreled garbage in urban streets and residential areas. operation.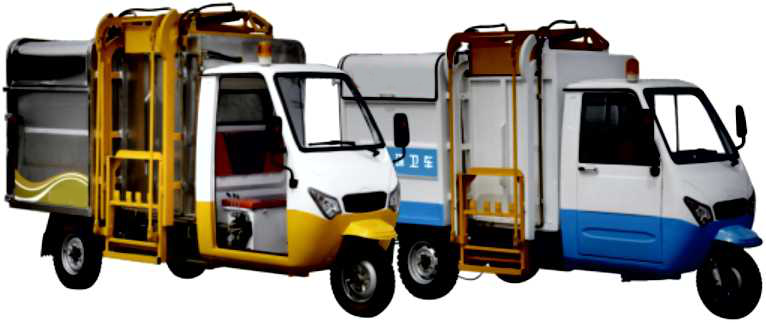 PARAMETER

Category

Unit

GM800-2.5CG

GM1000-3.5CG

GM8OO-3.5CG (304T)

Dimensions (L*W*H)

mm

3550*1250*2050

3750*1500*2200

3750*1500*2200

Cabinet size (L*W*H)

mm

2000*1150*1250

2200*1400*1350

2200*1400*1350

Cabinet capacity

m³

2.5

3.5

3.5

Rated load

kg

800

800

800

Minimum turning radius

m

3

3.2

3.2

Front and rear track

mm

2550

2650

2650

Tyre model (front / rear)

400-12/450-12

450-12/550-B

450-12/550-13

Motor

kw

2.5

3

3

Battery capacity

V/Ah

72/140

72/140

72/140

Charging time

h

6-8

6-8

6-8

Hydraulic power

kw

0.8

0.8

0.8

Time spent turning buckets

s

12

12

12

Box dumping takes time

s

14

14

14

Cabinet material

Carbon steel

Carbon steel

304 stainless steel

Reverse image

Optional

Optional

Optional

Compression device

/

Optional /parallel movement

Built-in /parallel movement
FEATURES

1.Adopt a double-arm pull rod side flip bucket mechanism, with reasonable design and easy operation. The bucket flip mechanism is controlled by hydraulic components, and a series of actions of clamping the bucket, lifting the bucket, turning the bucket, and returning are automatically completed in order.

2.The cabinet is made of high-quality steel, and the side and bottom plates are stamped. The sealing performance is good and secondary pollution is prevented.

3.It refers to which brand of DC motor is used to drive, the issue is differential gearbox transmission, and high, air and low gears are switched. Hydraulic brake.

4.The cab adopts stamped sheet metal technology, which is beautiful and fashionable, and the lines are smooth. The frame is welded with a double-layer channel beam.

5.It can quickly clean all kinds of square, round, 120L, 240L, 300L and other vertical trash bins.