Product Description
Company profile
Our company was founded in 2009 and is committed to developing various energy-saving and environmental protection equipment and products.The company's main products are electric forklifts,electric loaders, and electric garbage removal equipment.In recent years,the pollution of various fuel vehicles to the environment has been paid more and more attention,and has begun to be planned and even canceled. With the development of science and technology,all kinds of electric equipment developed by our company have gradually adapted to the needs of the market and human requirements for environmental protection.
Compared with traditional fuel equipment,our company's equipment has many advantages such as environmental protection,energy saving,noise reduction,low failure rate,low cost of use and convenient operation.In the domestic and foreign markets,there is a good reputation and demand.
Forklift parameters
Model
THOR1.6F
Power type
Battery
Rated load
KG
1500
Load center distance
mm
500
Driving type
Seat
Length
With fork L1
mm
3040
Without fork L2
1970
Whole Width B
1000
Height
Height no lifting frame H1
1960
Top frame height H2
2010
Max Height working H3
4050
Distance from seat to top light L3
1000
Wheel base L4
1260
Front overhang Y
385
Back overhang L5
365
Front wheel tread R
1010
Back wheel tread P
100
Min Floor clearance F
130
Max lifting height H
3000
Free lifting height H4
40
Fork Changing S
1040/200
Min Turning Radius WA
2100
Min Driiving Width RA
3785
Frame Angle a/β
(°)
6/12
Max Lifting Speed Without Goods
mm/s
300
Max Lifting Speed With Full Goods
260
Max Speed Without Goods
Km/h
14
Max Speed With Full Goods
13
Max Climbing Angle
%
≤15
Whole Weight
Kg
2650
Driving Wheel
2/2
Tyre Model
Solid tyre
Front Tyre
18×7-10
Rear Tyre
16×6-8
Hand Brake
Hydraulic Pedal
Brake Type
M-Hand
Battery Volt/ Capacity
V/Ah
48/230
Driving Motor Power
Kw
4.0AC
Pump Power
5.5AC
Product illustration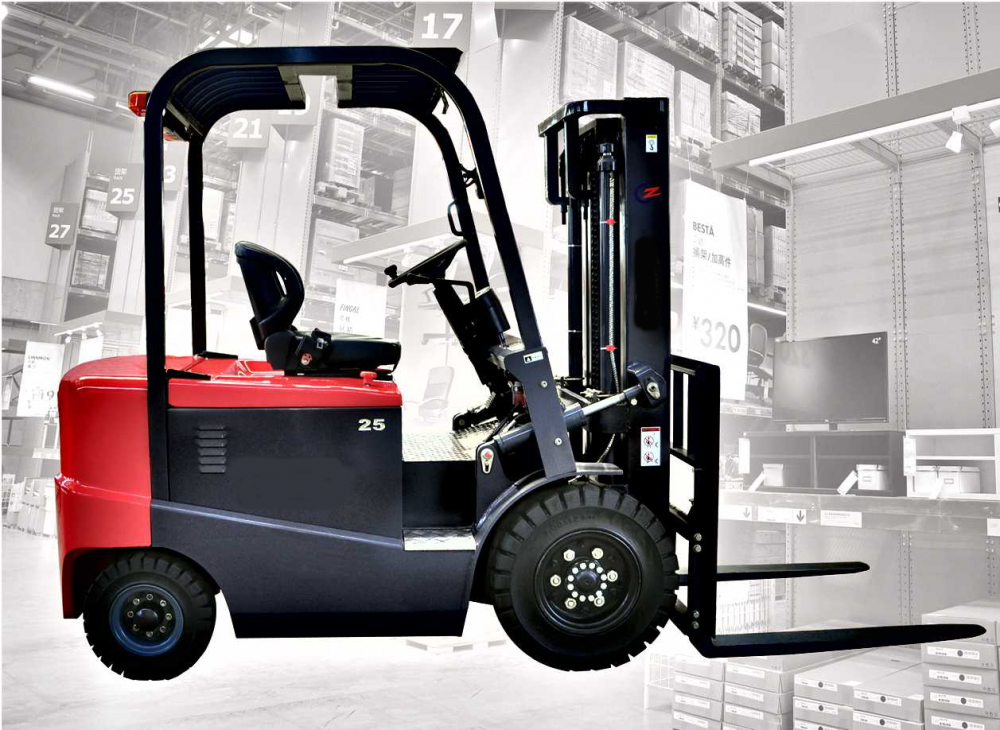 Details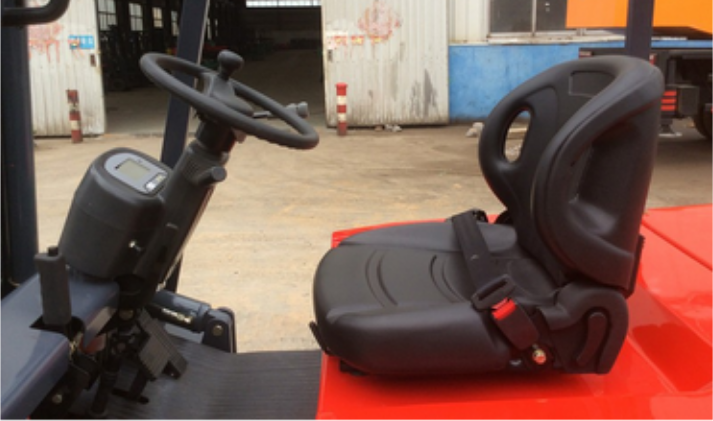 Machine Parts
Seat:Comfortable seat with safe belt. Ajustable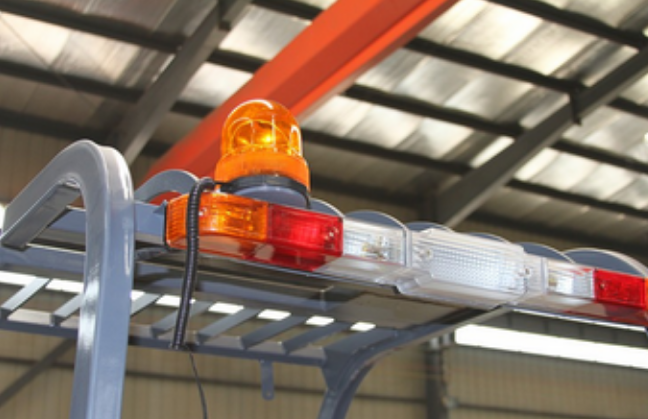 Main Features
Led light: Adopt led light with low power consumption.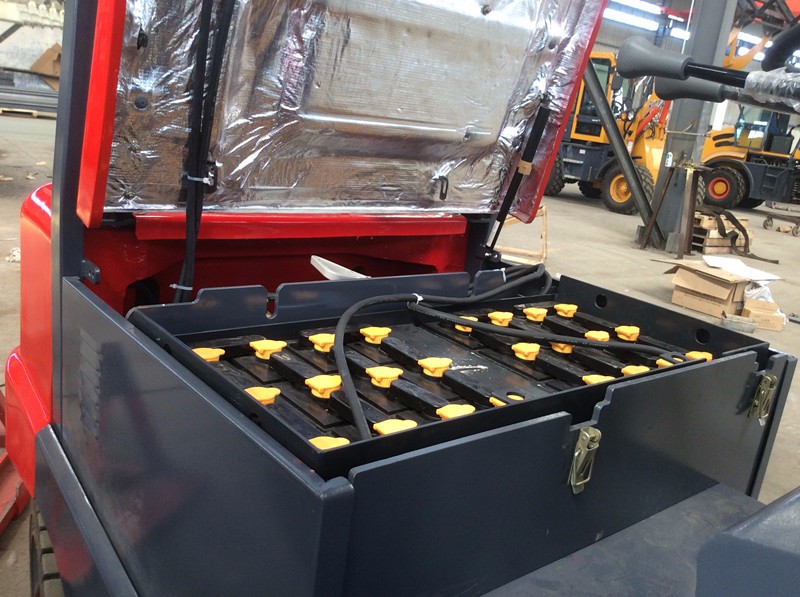 Machine Parts
Name:Battery Brand:Camel Original:China
China famous brand battery.
Main Features
Name:Tire Brand:Universal Original:China
Solid rubber tire for long service life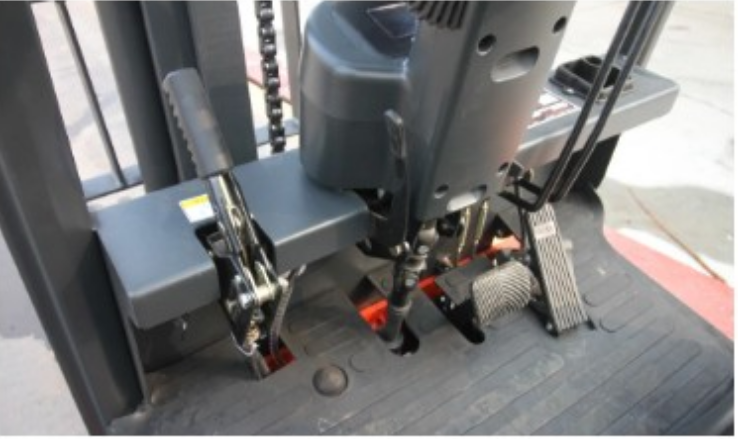 Handle brake & Accelerator pedal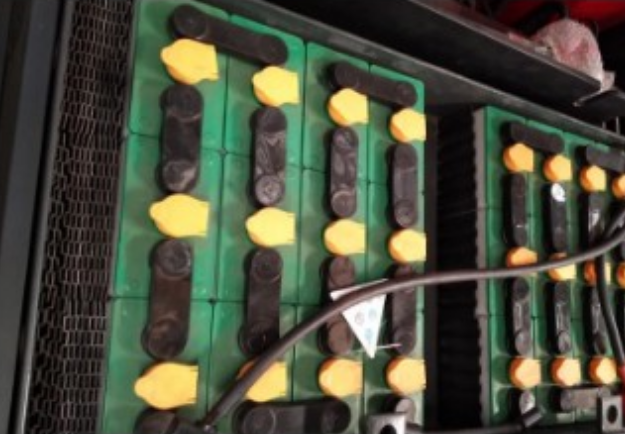 Lead-acid battery
Safe & Efficient
• Double lines solenid valve,three kinds deceleration model.
• With lifting limit switch to shut off pump motor at the max, lifting height.
• Ac stepless motor,more powerful,lower-noise and safer.
Excellent performance
• The damping effect is better because the drive unit adopts loating type design.
• Owning electromagnetic regenerative dual braking system.
• Emergency reversing device,emergency switch,EPS equipped handle to be effortless.
• There are standing,walkie,low running speed and limit speed function at overhead to meet kinds working condition.
Comfortable & practical
• Turning automatic speed limit function improve the operation comfort.
• AC Motor eliminates replacement of carbon brush.
• Large removable pedal with shock absorption function, operating space and driving comfor.
• Adjusted performance make the driving be smooth and comfortable.
Packaging & Shipping
1.PORT: Qingdao Port,Tianjin Port,Shanghai Port,China
2.PACKAGING: Polywood box,International standard
3.Delivery time: 10-30 days after receiving the payment.
4.PAYMENT TERMS: T/T L/C
5.Warranty: 12 months.